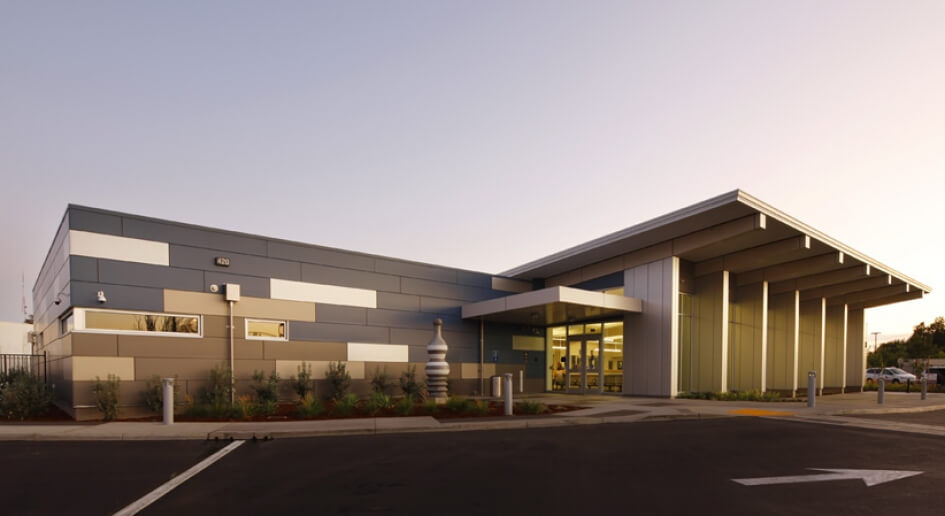 Our firm led a team of design professionals who are passionate about sustainable design to implement an integrated design approach for building, energy, and water systems to provide a high-level of comfort, indoor air quality, day lighting, and occupant satisfaction with very low operating costs. Using collaborative integrated design practices and strategies, the project's ecological footprint met USGBC LEED Silver standards.
The project's ecological footprint meets USGBC LEED Silver standards, and future reuse of the building was considered in the building's design.
The project site is located in the Richards Boulevard Redevelopment Plan area of the City of Sacramento. The project will house bus terminal operations, serving customer needs between closure of the current facility and the ultimate creation of the Sacramento Intermodal Transportation Facility in the Railyards. Future reuse of the building was considered in the building's design.
As a basis for design, Greyhound gave the team the option to use one of its prefabricated modular building designs or build a custom building within a restricted budget. After review of the options, our team settled on the use of a pre-engineered steel building that can be completely disassembled and rebuilt. The steel used has a high recycled content, and as well can be easily recycled. All components are assembled with fasteners with very little use of adhesives which increases the potential for reuse.
The building's aesthetic draws from classic Greyhound station design with new interpretations. The exterior insulated metal panels use standard colors in a pattern emulating a bus in motion. At the center of the building, a high roof and glass wall facing the street celebrates the comings and goings of people while announcing the building to the neighborhood at large.