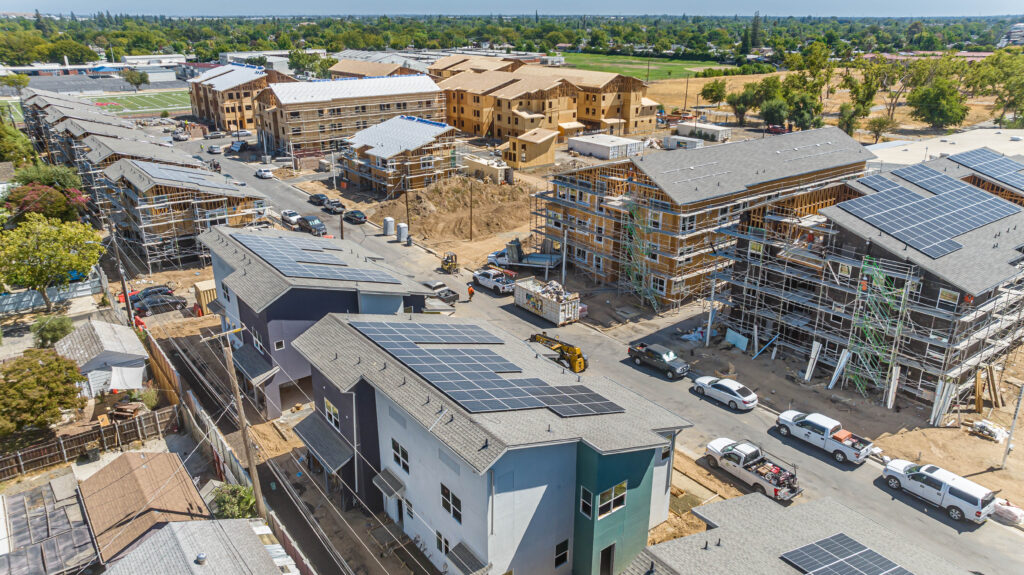 The Heights on Stockton Boulevard, an affordable housing community located at 5200 Prickly Pear Ave just East of Stockton Blvd, is well under way and set to expect its first residents in early 2024! Mercy Housing California (MHC) and Mogavero Architects in partnership with the City of Sacramento and the Sacramento Housing and Redevelopment Agency are proud to bring MHC's largest affordable development in the region to life. These 200 energy-efficient homes are part of a large reimagination of the Stockton Blvd Corridor, along with increased public transit accessibility, grocery stores, schools, shopping, and recreation spaces.
This development is the first of almost 1,400 affordable units planned for the Stockton Boulevard revitalization. The Heights utilized the City's streamlined approval process which is intended to reduce barriers when creating housing opportunities for low and mixed-income residents. Two key strategies were used when selecting the construction site, the first being a focus on efficiency throughout the development process and the second, to utilize an under-used commercial site. 5200 Prickly Pear Ave, an 8-acre lot sat vacant for years, the site of an abandoned furniture store and demolished gas station and car wash.
Creating a family-friendly environment was a top priority for the Mogavero team. The large variety of unit types including 1, 2 and 3-bedrooms can house families of all sizes and the communal park spaces including play structures and outdoor amenities are designed to promote play and neighborhood engagement by being open to the public.
As this neighborhood continues to see rapid growth, Mercy Housing and Mogavero Architects is proud to continue serving Stockton Boulevard's current community members by making affordable housing a priority. The Heights on Stockton Boulevard is being constructed by Next Phase Construction, Inc. and in connection with Panaskopic Productions, has provided a video update of the project's progress: