The proposed Royal Oaks TOD (Transit Oriented Development) design redefines the meaning of "edge." Instead of buffering and transitioning, the design embraces its gritty urbanity and transforms it into a bold, energized community. Straddling the Del Paso Boulevard commercial strip and quieter, residential neighborhoods on Evergreen Street, Royal Oaks TOD is poised for a renaissance of sustainable site planning and architecture: transit oriented development with a public market, kiosks, art walk, shops, office space, live/work homes, apartments and flexible community space.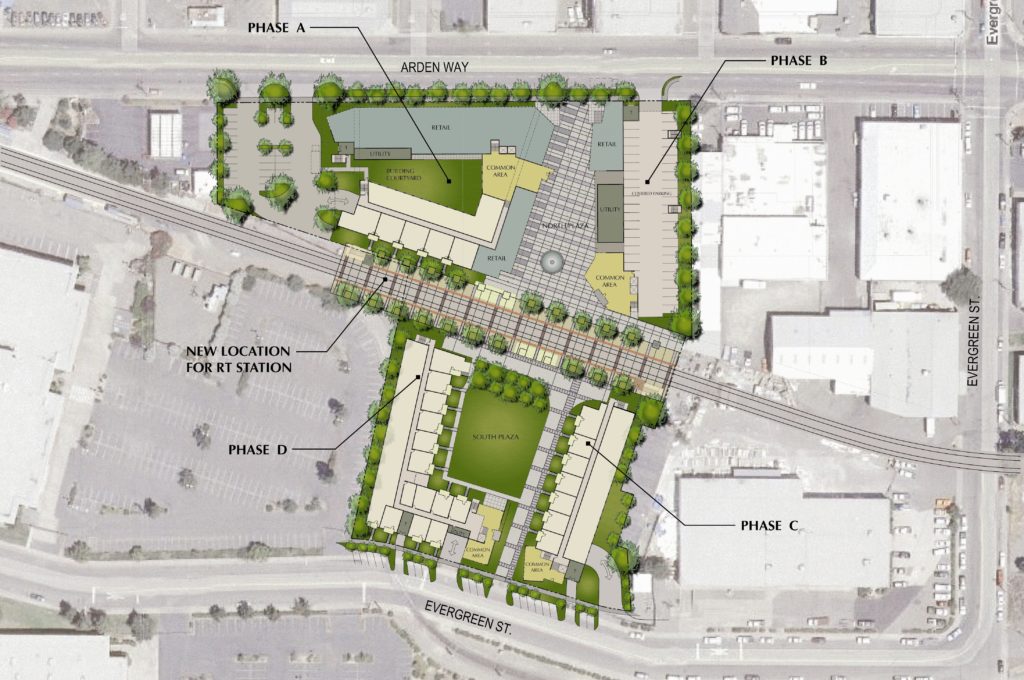 The project envisions a residential development that brings life, scale, and redevelopment to an under-utilized industrial site. Ground floor retail shops line the entrance to a vibrant and eclectic pedestrian-oriented town square adjacent to two iconic residential buildings.

As the connection between Arden Way and the light rail station, the north plaza is envisioned to have the highest foot traffic in the community. Able to be programmed for community events, thousands of visitors will be able to discover a place where movies can be projected on a building façade and vendors can sell ethnic foods. Automated kiosks are planned adjacent to open air stalls, selling everything from crafts to food to daily conveniences. Rooftop terraces and garden walls surround and overlook the plaza. The north plaza will become a public focal point, energized by people, art, music, and food.