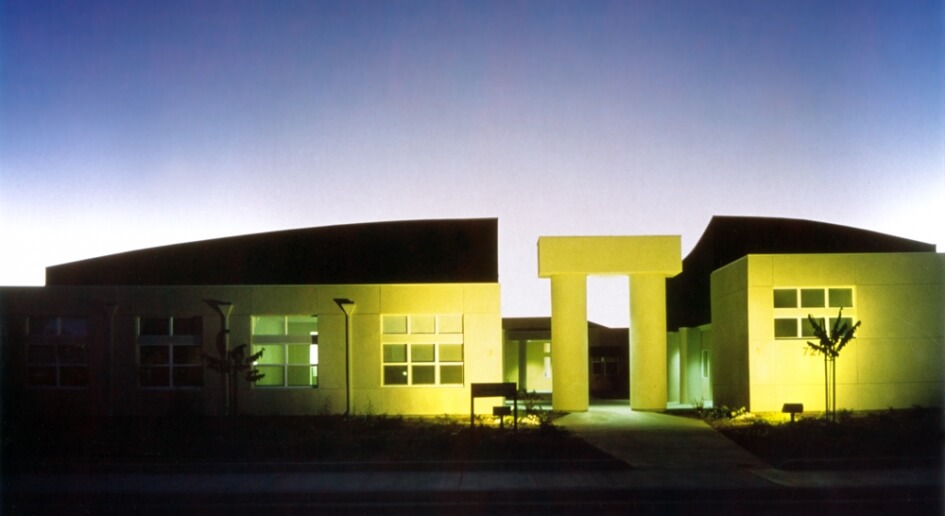 The Vietnam Veterans of California built this resource center to provide support services to the estimated 4,500 veterans throughout Northern California who lack shelter and adequate job skills.
The entry to the buildings is through the "soldier columns" that lead to an academic court between offices and classrooms.
The facility provides employment training, placement services, and administrative office space for the agency.
A 32-bed residential facility provides on-site housing for homeless veterans transitioning back into society.
The entry to the buildings is through the "soldier columns" that lead to an academic court situated between the offices and classrooms. This space leads to the residential wing, where a strong, animated color scheme helps to differentiate the area from the comparatively staid colors of the classrooms and administrative area.
The design places emphasis upon a therapeutic environment for the residence with natural lighting and energy systems and sociability privacy enhancements.
The natural lighting and open design of the dining area off the kitchen, brings the positive vibrance of the courtyards indoors. Classrooms and residence facilities work together to provide the kind of atmosphere most conducive to learning and reinforcement. The communal gathering spaces lead to the curved, glassed hallway which opens onto and embraces a park-like recreation area.
The hallway's gentle curvature is aesthetically pleasing and enhances the sense of privacy for residents of the dormitory. Additional site improvements include an outdoor recreation area, working garden, landscaped communal area, and a thirty-four-space parking lot.
There is also an on-site swale which detains excess water from the back of the site and parking lot and cleans the run off prior to it entering the underground drainage system.