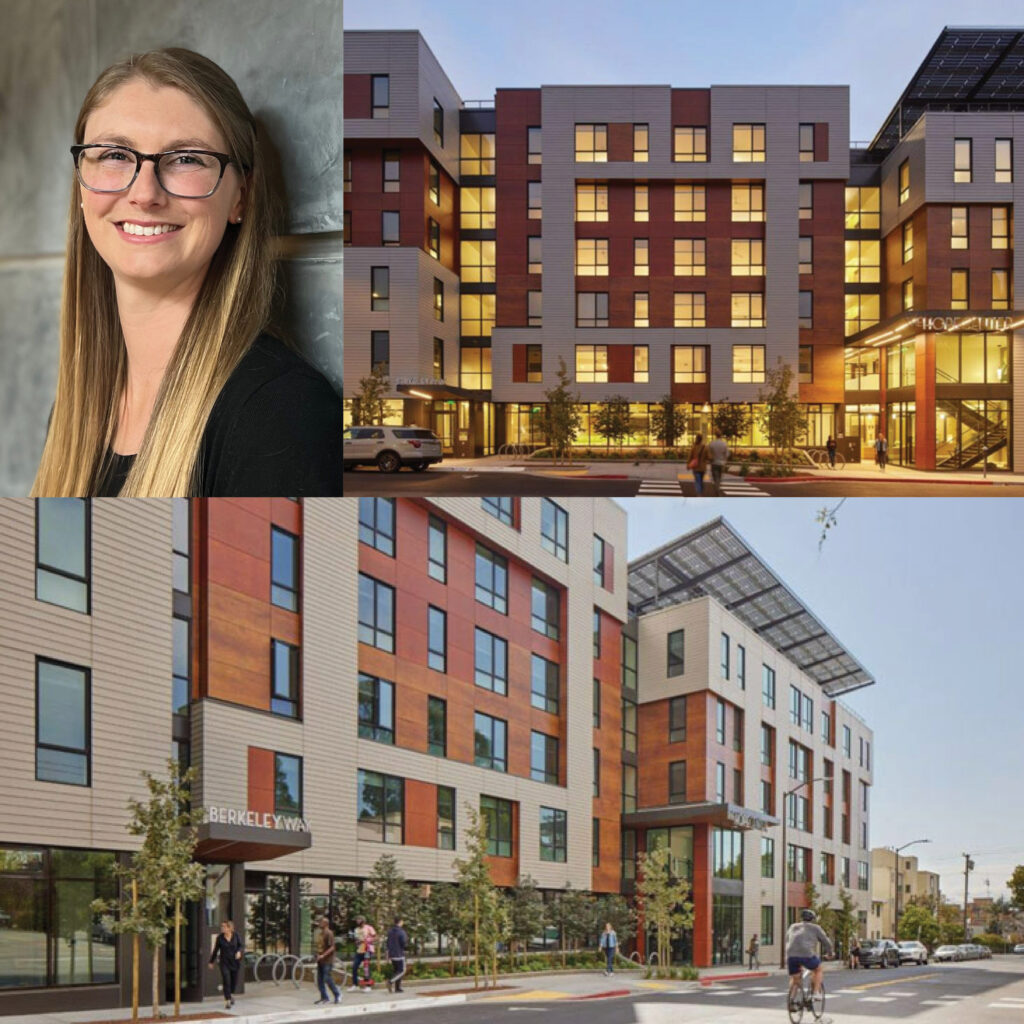 Jen Winnett, AIA, LEED GA has brought a tremendous skillset in the field of affordable multifamily housing to our firm since coming aboard in February of 2023. A graduate of UC Berkeley and passionate advocate for sustainable, equitable, and affordable housing, Jen has already positively impacted several major projects with our firm including Mutual Housing California's much-anticipated new affordable housing development at the site of the former San Juan Motel.
Prior to relocating to the Sierra Nevada Foothills, Jen was employed with Leddy Maytum Stacy Architects (LMSA) where her team designed a multifunctional housing and social services project, The Hope Center & Berkeley Way Apartments, in the heart of Berkeley's downtown.
With its doors open to residents in October of 2022, the 206-bed low- & very-low income housing development by BRIDGE Housing & Insight Housing has transformed the Berkeley Way corridor into a place of community engagement and access to vital resources. The population has benefitted from onsite services for mental health, substance abuse treatment, job training, social activities, and daily community meals.
In addition to serving as the newest housing and services hub of the neighborhood, the project has recently received some of the industry's highest architectural accolades. The Hope Center & Berkeley Way Apartments was named the recipient of AIA East Bay's 2023 Honors Award in the Large Project category, as it exemplifies the AIA Framework for Design Excellence and the meeting of social needs through exemplary design.
Earlier this year, the project was also awarded a ULI Americas Terwilliger Center Award for Innovation in Attainable Housing. This award highlights "unique yet replicable developments that offer or preserve deeper affordability," which the Berkeley Way/Hope Center project accomplishes through the strategic use of multiple funding sources, dynamic collaboration with co-development teams, multi-sector partnership for fulfilling onsite services and amenities, and leading industry environmental standards.
Uniting communities and providing life-saving shelter & services to our neighbors is at the heart of what all of us in the affordable housing design field aim to accomplish. Mogavero Architects could not be more proud of Jen and her former colleagues at LMSA on this monumental achievement in our field.
Congratulations!