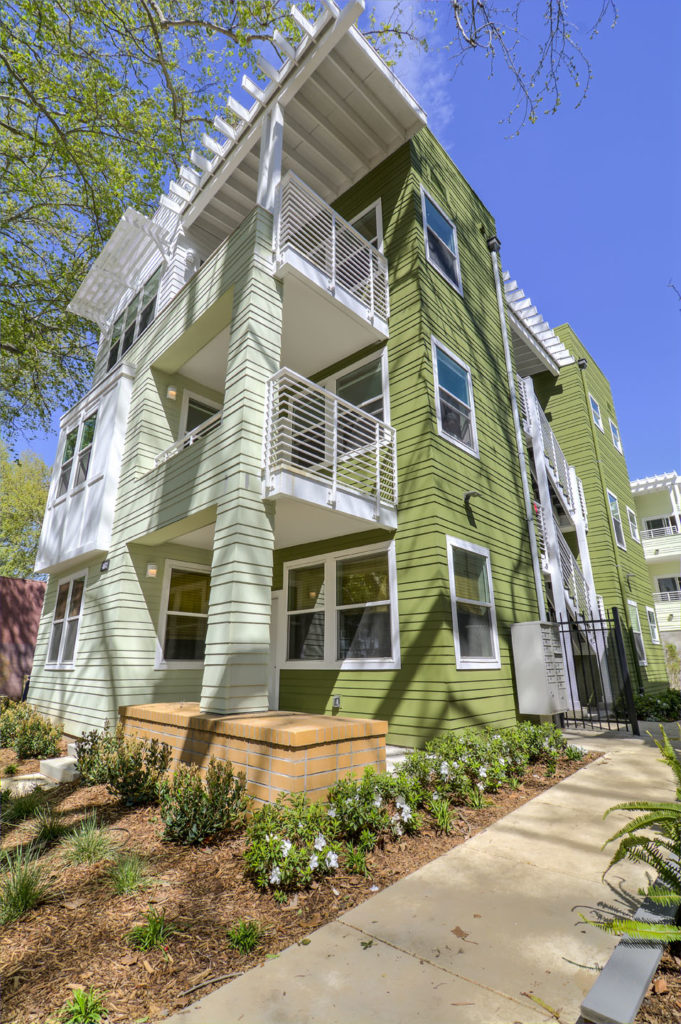 The T street development project includes construction of 11 new multi-family homes and renovating an existing 4-plex into a building with three units; for a total of 14 units.
The new building is broken up into three smaller sections to be similar in scale the adjacent structures in the neighborhood.
While being sensitive to the existing historic neighborhood in which it sits, the new apartment building does not mimic it. It was not our intent to create a false sense of history, rather a respectful modern counterpart to the existing context. This is accomplished with massing, use of materials, and similar details. To diminish the overall scale of the new building, the third level is a different color and material, and steps back. Lap siding, colored window trim, and porch detailing support the look of the neighborhood.
Through massing, finishes and color, the new building is "broken up" into three smaller sections to reduce the scale to something similar of the adjacent structures in the neighborhood.
A courtyard is centrally located on the site to provide outdoor space and circulation. This courtyard was strategically positioned to have cool summer shade and includes a BBQ, seating area, edible planting, bicycle racks, and access to all dwelling units; thus creating a strong sense of community. In addition to the central courtyard, every upper level unit has a private balcony to provide eyes on the street which enhances the sense of security and community for the neighborhood.
SPECIALIZED APPROACHES
Radiant barrier
The roof is a cool, single ply roof.Central hot water boiler that is pre-plumbed for a solar hot water panel
Conduit for future photovoltaicsLow VOC materials
Highly energy efficient mechanical units
Natural day lighting
High U value windows and high performance glazing