It was a privilege to watch the long-awaited groundbreaking for two projects last week, finalizing the phases for Mather Veterans Village.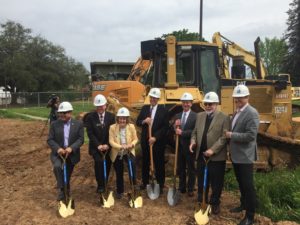 Phase 2 is the renovation of the 20,000 square feet of an old air force "bachelor officer's quarters" (BOQ) to a 46-bed transitional housing facility for homeless vets. The building will serve the residents 3 meals a day, provide support and educational services to stabilize and help them find permanent housing. The building is an easy walk to the Veterans Administration Hospital and services down the street.  An important move forward to ending homelessness in the region, the project is being developed by the Veterans Resource Center of America.
Phase 3 is the construction of 50 new permanent supportive housing units by Mercy Housing California. The long 3 story building wraps around a courtyard to create protected outdoor space for the residents to enjoy. Each of the three phases has its own outdoor community that connects and flows to the next to create a supportive environment that feels like home.
Construction is expected to be complete for residents in about 14 months.
The Sacramento Business Journal reported on the event: https://www.bizjournals.com/sacramento/news/2018/04/10/last-two-phases-of-mather-veterans-village-get.html
View project information for Phase 1 of the Mather Veterans Village.
Check out this video developed by the California Department of Veterans Affairs. The video includes footage of Phase 1's completed construction in the background. https://www.youtube.com/watch?v=5fuP6G_fYFA